GREENCOIN: SUSTAINABLE GREEN SYSTEMS
GREENCOIN: SUSTAINABLE GREEN SYSTEMS
Posted December 12,2018 in Science and Technology.
The problems caused by naturally driven powers generation system posses a big threat to earth natural ecology accounting for pollution, global warming, depletion of the ozone layers and acid rain. Power generation is a needed necessity around the globe, coupled with the technological innovation serves as a drive for getting done for our daily activities. Over the years till now power has been generated by natural resources such as coal and gas. In the process of generation bring about harm to our ecology with the emission of waste product to the environment. Most part of the world generates power and electricity via this means which is very harmful to our habitat and has accounted for health challenges and death all over the world. The world been a place cant do without power social amenities to suit all day to day activities needs, so there is need to create a balance in the chain where power or electricity can be generated with affecting earth natural system.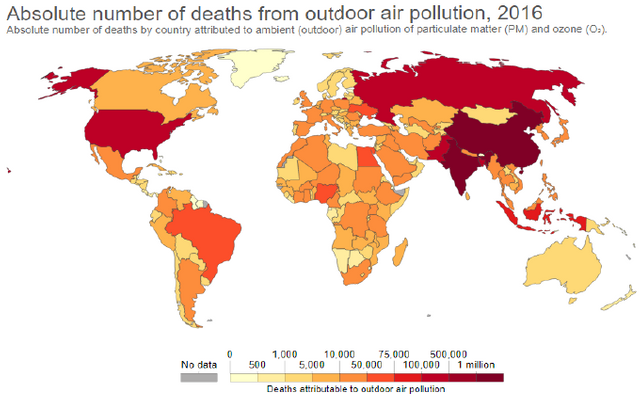 THE GREENCOIN SOLUTION
This has brought about the innovation of GREENCOIN, a decentralized platform based on sustainable systems to solve real problems in the world. The platform will connect green system manufacturers and installation companies or certified individuals directly with buyers. This will bring about a platform where green sustainable energy manufacturers will be connected with installation individuals working hand in hand to render service to buyers. This will create a mainstream where green sustainable energy can be widely accepted for the banishment of natural process driven power production that causes harm to the environment. The GREENCOIN platform will got about green sustainable solutions via three ways: SOLAR SYSTEMS, HYDROGEN SYSTEMS, AQUAPONICES SYSTEMS.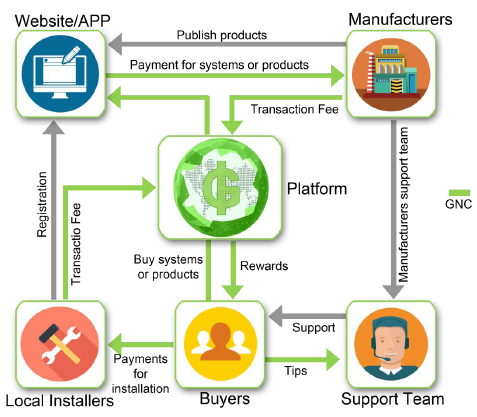 The GREENCOIN platform will function on blockchain technology coupled with smart contract for speedy transaction and transparency on the platform. This will serve as a means of carrying out transactions on the platform using the GREENCOIN token via the online store interface. All renewable sustainable energy providers and installers will register on the GREENCOIN website or application where buyers can liaise on products buyers desire via smart contract and blockchain technology. GNC token will be used to carry out all transaction and rewards on the GREENCOIN platform. The GNC token is a standard ERC20 token and a total of 50,000,000 will be created. The GNC token price will be 1EHT=500 GNC, HARDCAP=60,000GNC, SOFTCAP=10,000GNC. The GREENCOIN platform plans on expanding their innovation over different problems to tackle burning of fossils fuel with the innovation of sustainable green renewable energy. This will eliminate carbon emission into the environment in the process of power generation bringing about ecology that suit living organisms without health risk factors.
TOKEN SALE STRUCTURE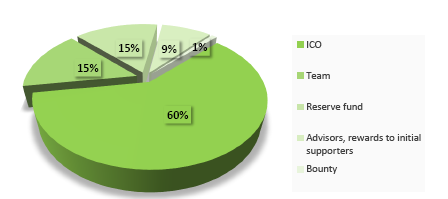 TOKEN SALE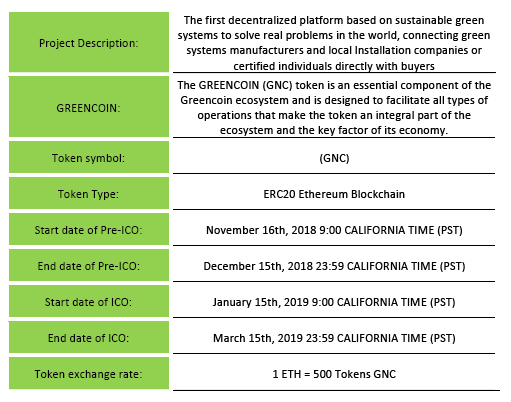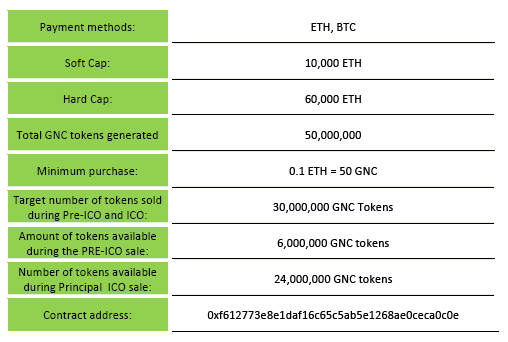 INITIAL COIN OFFERING

ROADMAP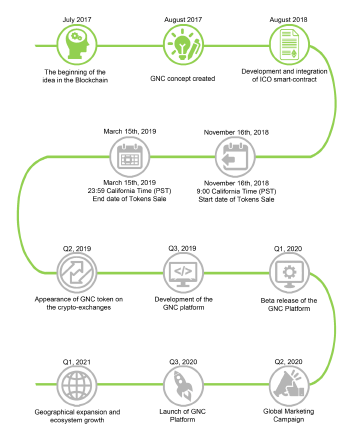 TEAM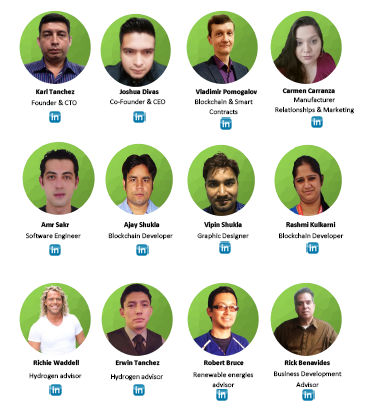 Dear readers lets be part of GREENCOIN innovation to create a better ecology system creating green sustainable energy to eradicate pollution environment with burning of fossils fuel for power generation.
GET YOUR GNC TOKENS NOW
For more information about the GREENCOIN, kindly click on the following links below
Website:https://greencointoken.com/
Facebook:https://www.facebook.com/Greencointoken/
Twitter:https://twitter.com/GreencoinToken
BitcoinTalk :https://bitcointalk.org/index.php?topic=5051891.0
Telegram:https://t.me/greencoin_token
Youtube:https://www.youtube.com/channel/UCDDy06vkCpda4ZCFUyhD8pw?view_as=subscriber
Whitepaper:https://www.greencointoken.com/docs/ico-whitepaper-English.pdf
Medium:https://medium.com/@greencointoken
Github:https://github.com/vpomo/TokenGNC
Reddit:https://www.reddit.com/user/GreencoinToken
My Bitcointalk Link:https://bitcointalk.org/index.php?action=profile;u=1920725